We partnered with ecollective to help us measure and reduce our carbon footprint. Calculating your own carbon footprint can be a little complex as almost everything in our day to day lives has some sort of footprint. Our calculation system is not perfect, but it is highly accurate and allows us to see what we can improve and by calculating every element of the business we can see where to focus our attention. It will also get better with every event.
For this project, we followed the Greenhouse Gas Protocol (GHG Protocol) and applied emission factors provided by DEFRA and other data sources. To keep ourselves accountable and open to criticism, we are happy to share our methodology. Just email us or ecollective to find out more.
A bit about ecollective
A team of self-confessed carbon geeks, they are committed to helping businesses fight the climate crisis. They do this by making it as simple as possible to measure carbon performance today and providing tools to improve it tomorrow. By finding sustainable solutions that benefit the business, the customer and the planet.
Our team are closely working along side Charlie from ecollective to gather all relevant information needed, to measure and calculate our carbon footprint across all our events and day to day lives.
Carbon auditing has commenced:
We have appointed Ecolibrium as Sustainable Travel Partner for the National Outdoor Expo and incorporated optional carbon offsetting process into See Tickets booking system.
For carbon auditing reports to date and further information on the progress we have made to date click here
Sustainable Travel Partner: Ecolibrium
Raccoon Media Group are working with Ecolibrium to offset the travel carbon footprint that is generated by The National Outdoor Expo.
Ecolibrium is a live events industry response to the climate crisis – a community of events, festivals, suppliers, artists and music companies taking action to reduce travel impacts and invest in climate solutions.
All visitors will be encouraged to offset their travel using a dedicated travel calculator or with a suggested contribution, which will be integrated in the box office ticket booking system, with reminders before, during and after the event to donate to the Trees+ offsetting programme.
The Trees+ programme includes the option to mitigate the impacts of unavoidable travel CO2e emissions by investing in climate solutions with social benefits that go beyond 'balancing,' in line with current UN approaches.
Every tonne of CO2e balanced by the Trees+ programme includes:
PLANTING: Balancing carbon emissions through tree planting in the UK in line with the UK government approved Woodland Carbon Code
PROTECTION: Protecting areas of threatened rainforest – reducing deforestation and protecting biodiversity
REGENERATION: Social & environmental regeneration through tree planting, sustainable farming, forestry protection and local governance in parts of the world most at risk from climate change.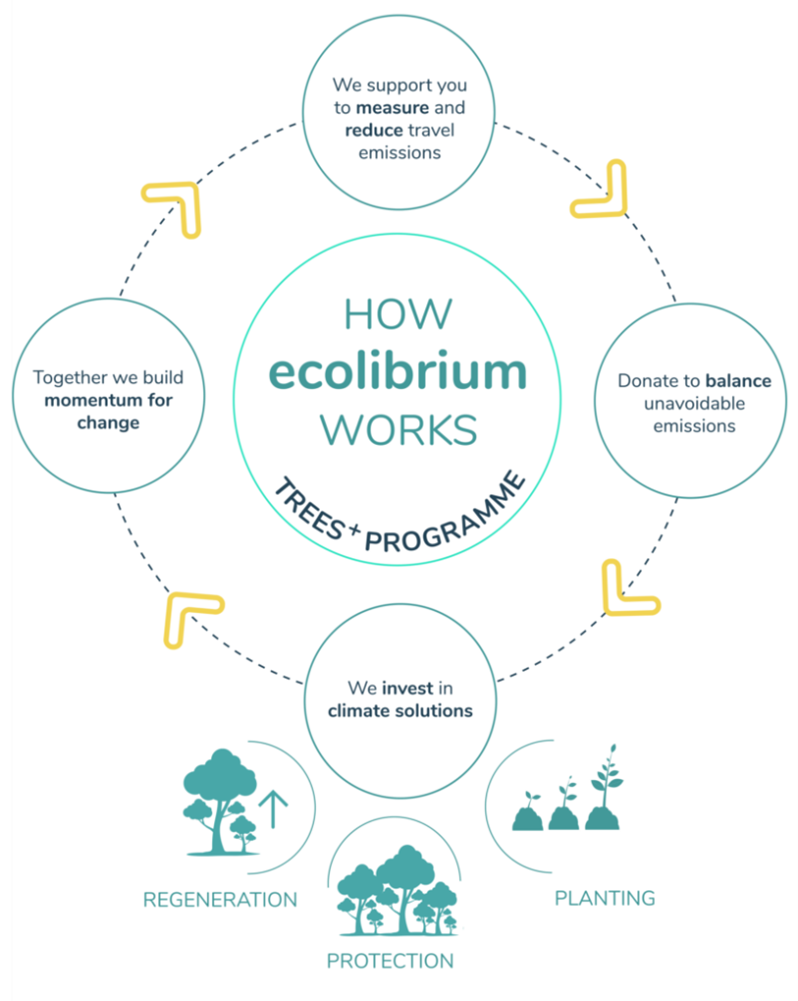 How Balancing Works
Ecolibrium helps you calculate the tonnes of CO2e emitted using the Travel Carbon Calculator and associated tools. Travel carbon balancing with Trees+ is based on £15 per tonne of CO2e.
The £15 is split into 3 investments with our established partners, and an administration cost as follows:
Planting trees in the UK (equals 1 tonne CO2e) with Forest Carbon (50%)
Protection – Rainforest Trust – minimum 1 acre (25%)
Social – Temwa (Malawi) – 3 trees + social benefits (12.5%)
Administration cost & building the movement (12.5%)