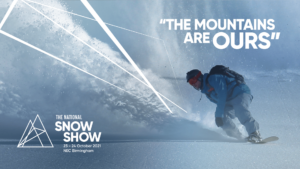 Snowsport enthusiasts across the country should save the date for 23-24 October 2021 when the UK's only National Snow Show will be taking place at the NEC in Birmingham. The event will be a mecca for winter sports enthusiasts providing a comprehensive retail experience, a first-class speaker line-up and interactive features including Rail Jam dry slope, Rider's Lounge, Shred Stage, Skate Mini Ramp, Alpine Après Bar with live music and a Good Vibes Après Party, all under one roof. To celebrate the launch the organisers, Raccoon Media Group, has released 2,000 free tickets to the Show on a first-come-first-served basis using code LAUNCH.
The two-day event will play host to some of the snow scene's biggest names including Sir Ranulph Fiennes, Graham Bell, Kate Ormerod, Billy Morgan, Benjamin Alexander, Scott Penman, Jamie Barrow, Jamie Nicholls and Ed Drake who will lead a packed schedule of inspirational and educational talks on the Snow Stage and workshops in the Snow Skills Cabin, providing new and experienced skiers and snowboarders with an armoury of information and advice to get started or advance in their chosen winter sport.
The Show, which is expected to play host to over 10,000 winter sport enthusiasts, will give visitors access to over 140 brands helping kit shoppers out with the right gear for the winter season ahead. As well as the latest gear and kit, resorts, destinations, and tour operators will be on site to help plan, offer advice and book the perfect winter adventure.
Not just aimed at people already involved in the snow scene, the Show will provide an opportunity for those interested to get a taste for snowsports through a series of workshops, skills sessions, dry slope sessions, as well as a mini league for university students to pitch their skills against each other to be in with a chance to win £500 to spend at the show.
Stephen Morgan, passionate snowboarder, snowsport enthusiast and Managing Director of the Active Division at Raccoon Media Group commented: "The National Snow Show will be the must-attend event for snowsports enthusiasts in 2021. Jam packed with interactive features, the best brands, the biggest names and most importantly, providing an opportunity for the UK snowsport scene to come together in a safe way and prepare for the snow season ahead.
"The Show is not only a chance for seasoned skiers and snowboarders to plan for the upcoming season but will also provide an easy entry point for those curious about snowsports to learn the basics, chat to the experts and hear from incredibly motivating and inspiring speakers before hopefully deciding this is the sport for them."
The Show will play host to brands, organisations and destinations including Ski Club GB, Mountain Trade Network, The Wave, EcoSki, We Are Horizontal, ArcX Technology, Skiers Edge, Out House Snow, Ellie Soutter Foundation, DSUK, DOUK, Trixski, OTP Holidays, Oneskee, Cactus Drink Well and Cathalan Hats.
For more information about The National Snow Show visit www.nationalsnowshow.com or to discuss opportunities to exhibit contact Event Director, Stephen Morgan stephen.morgan@raccoonmediagroup.com.