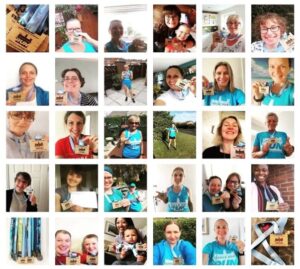 The National Running Show has announced that it has awarded grants to four deserving recipients as part of the Elite and Community Grant Scheme which was launched at the National Running Show Birmingham earlier this year.
Runners of all abilities were able to apply for the grants issued by the National Running Show to help facilitate the next wave of elite athletes and community running groups. The programme's judging panel featured a host of industry experts and included Olympic silver medallist, Wendy Sly, ultra-runner and Peloton Instructor, Susie Chan, Women's Running Editor, Esther Newman, Mizuno's UK Marketing Manager, Graham Johnson and Raccoon Media Group CEO, Mike Seaman. The judging was facilitated by Run Show Portfolio Director, Nathalie Davies.
The Elite grant is the top tier of funding which aims to support elite runners who inspire through their activities. The money can be used to purchase specialist equipment, access professional training and coaching and to cover travel costs to events. The second stream of funding, the community grant, offers groups across the UK an opportunity to apply for support. The criteria for selection identified those who help encourage inactive people to become more active, promote and encourage lasting sporting habits and help to develop positive attitudes towards running among young people.
The panel awarded three elite grants the recipients of which were GB and Welsh International endurance runner, Jenny Nesbitt, Scottish middle-distance endurance athlete, Sol Sweeney and Olympic marathon runner, Kevin Seaward. Speaking of receiving an elite grant Jenny Nesbitt stated: "This grant is going to provide me with so much more stability in order to make it to training camps and races which is fundamental to achieving qualifying standards and making that next step into the top elite area of the sport."
The winner of the community grant was Durham Mums on the Run who said: "We are hugely grateful to the National Running Show for awarding us their community grant. This grant will be used to fund coach and leader training in order to set up an exciting new project that will be a brilliant addition to what we offer at DMotR."
Mike Seaman, CEO at Raccoon Media Group and founder of the National Running Show, commented: "We have met so many inspiring runners in the five years since we launched the National Running Show, and not just athletes, runners who do a mile a week but are so motivated because of the positive physical and mental outcomes. When I set up the National Running Show it was my aim to be able to give back to this amazing community and I am delighted to be able to do that through these grants. We feel passionately that running is about more than getting fit and healthy, it's about friendship, motivation and positive mental health and we know first-hand how important community running groups are in inspiring people who might be reticent to get out and take a few steps."
The grant scheme for 2023 will be launched at the National Running Show Birmingham which takes place at the NEC on the 21-22 January 2023. For more information about the event visit https://nationalrunningshow.com/.