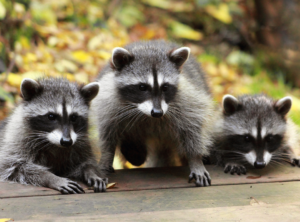 Raccoon Media Group, the company behind the award-winning health and well-being shows, is proud to announce the opening of its new raccoon sanctuary, located in the heart of Guildford high street. The sanctuary is designed to provide a safe and secure home for raccoons while also serving as an educational centre for people around the world. If you have any raccoon-mendations on what to name each raccoon, please get in touch.
The company is a small business with good intentions and has a strict sustainability policy for their events with an aim to be net zero by 2025. Raccoon Media Group CEO and animal activist Mike Seaman, commented: 'we measure and reduce our environmental impact with everything that we do and after my passion-led research into the endangerment of raccoons, I wanted to take this a step further and inspire people to care more deeply about nature and wildlife. Alongside my role as RMG CEO and Guildford running Mayor, I am now excited to become Surreys very first 'Trash Panda Pioneer'.
At the sanctuary, visitors will be able to observe rescued raccoons in their natural habitats and come away with a better understanding of these highly intelligent animals. In addition to providing hands-on education, the sanctuary will also raise awareness about threats facing raccoons in the Surrey area, such as habitat destruction, being hunted by pigeons, and Cyril Sneer. By educating people about these issues, RMG hopes to help promote conservation efforts that will protect the future of this species.
Head of Raccoon Representation in the UK, April Fules, commented 'This is a fantastic step towards Raccoon acceptance in this country. I recently visited a group of the Raccoons that will be adopted into the sanctuary, they look visibly enthusiastic to be heading to the exotic town of Guildford'.
To celebrate the opening of the Raccoon Sanctuary, we are releasing a special free ticket code for some of our successful shows when you use code RACCOONSANCTUARY at checkout:
For more information on our other shows, click here.